May 29th, 2009
Who Has Time To Sleep
May 28th, 2009
Blind Date
May 28th, 2009
Ongoing Story | Part E
May 27th, 2009
Birthday
May 27th, 2009
Mail | Thank You
May 25th, 2009
9th Ave. | NY NY
2006 | months apart

May 22nd, 2009
#1RN | Kevin M
Kevin M | #1RN – Without You #74 | 5/18/09
I have been reading Kevin's site for about year, probably longer. If you are not already, you should, start now, right
here
.
Last August, Kevin invited me to make a photograph at the same time as 10 others for tinytinygroupshow #6. You can get the info here and see it here.
For all the photographs I made that day, go here. Life is so different now yet it feels like yesterday I was watching my clock, not wanting to miss that moment I needed to click my camera along with all those other cameras.
May 21st, 2009
M | NYC
Undated.

May 20th, 2009
2009 | Cincinnati
March 7, 2009 | 12:47:20 PM
I was visiting some friends in Ohio. I had gone downtown with he and his daughters for ballet practice only instead of ballet, I got to borrow his new camera for awhile. So for that hour, I went for a walk. I had noticed kids were around and tried to be sure I never pointed the camera towards any of them. Then when I came around the corner from a wall I had been photographing, I heard a group of young voices from overhead, "What you taking pictures for?" I thought about it a moment and really didn't know how to answer them, "I just enjoy it," I said, only half believing it myself.
"Take our picture!"
So I stepped closer to the wall, guessed the focus (as this camera was manual focus without a rangefinder or TTL focus), guessed the exposure and said, "1, 2, 3…"
They all grinned, I snapped the shutter and they said, "Thanks Mister."
Then I walked back to ballet practice.
May 19th, 2009
1995 | Rochester
I had first seen her on the porch across the street from where I was photographing. She had been staring at me, watching me walk down the street making photographs. I made sure to not ever point the camera her way, I didn't want her to think I had taken her photograph. I kinda forgot about her after a few yards, crossed back over the street and kept walking. A few moments later, I heard soft footsteps behind me, only in unison with mine however, if I stopped, so did the footsteps… If I kept walking, there were the soft steps again. When I turned around to look, there she was. She leaned towards me while still keeping her distance and very softly with glee in her voice, she pointed to the Leica and said, "Take my picture." I raised the camera to my eye, pressed the shutter and smiled at her. She giggled, spun around and happily shuffled back to her porch.
I used to walk around Rochester often and it never failed, even in this photography city, I always got hassled, she was one of the only instances where it actually was the opposite. Usually it was residents but one time I had the police approach me. The officer actually found the entire thing humorous but maybe it was just my behavior upon his approach. He rolled up behind me as I was standing in the middle of a street with my camera pointed at the sky, he was right on my heels and I decided the best idea was to ignore him even though the cruiser was only about twelve inches away. I heard the window go down right next to me and kept trying to pretend he was not there. He actually even said, "Excuse me." I turned and looked at him while keeping my camera trained on the sky, he then said, "[insert name of photo school]." I looked back up at the sky and said, "Yes." He smiled and drove away.
May 18th, 2009
1995 | Rochester – West Chester
My Mother.

May 17th, 2009
Me | TX
Sometimes Texas hurts my eyes.
May 16th, 2009
NYPH09
May 15th, 2009
#1RN | Untitled
May 14th, 2009
I Got the Lead
press play to see me (title image not me)
I got the lead among some great company in the above video by WTJ?
It is NYPH'09 time here in NYC. I was going to go to everything, but with all the presentations going online this year and Andrew out there at the parties, it may be easier to just sit at home and follow along… (of course I am still going).
May 14th, 2009
Los Angeles | 2008
Wife to a Man, Mother to a Son, Mother to a Daughter.

May 13th, 2009
Husband & Wife | TX
Charles & Tiffani | My Brother & My Sister in Law
May 12th, 2009
File | Madoff on TV | File
It may not be obvious in these photographs, but that silver square there is where my television here in #1RN hides. Right between the filing cabinets and under the work table. The chromes of Madoff sat in the file to the right almost 10 years before they got to be on the television next to them, living again to be seen by millions. Both images on the television in these photographs are mine, the less seen one is now no longer under the radar. The boxes above even contain all the original Polaroids from the Madoff shoot as I never throw anything away, even ones of the stand in.
PBS Frontline did a good show and I was proud to be a part of it… I just wish they had credited me correctly and not aligned my name with a company I have nothing to do with… or, there is another Jonathan Saunders that contributed, there do seem to be too many of us out there.
May 12th, 2009
I am the PBS Closing Evil Icon
I don't think I will be able to ever fully understand the true weight of what this man has done. A million dollars is too abstract to me, a billion is too abstract for me and honestly, $50 billion is too abstract for us all or we'd be rioting in the streets. Now I find my portrait of Bernard Madoff is coming to be the icon of one of the biggest criminals in history.
I cannot put this all in perspective, I trust PBS FRONTLINE has done a better job of that for me, watch it tonight – it looks very well done, preview it here. It is the clip with the woman in the red dress, my image is 2 minutes in and is the closer.
May 8th, 2009
#1RN | John H
May 8th, 2009
Pride in #'s | part III
Doorbell on wall, close-up
Premium Access Agreement, Time Limited
Hearst Communications
License Fee = $32.51, Royalty Rate 40%, Gross Royalty = $13.00
Young woman with redhead, laughing, close-up
Premium Access Agreement, Time Limited
MTV Networks
License Fee = $11.18, Royalty Rate 40%, Gross Royalty = $4.47
Gross Earnings = $17.47
Minimum Payment Not Met. Amount Carried Forward(in USD) 18.88
May 7th, 2009
As Requested by Sidney
A year ago, almost to the day, I was in a relationship and brought her to see my family on a short trip to TX. She met my niece Sidney and then simply due to distance, she never met my niece again.
In one of my first moments in TX with my niece recently she asked why my girl wasn't with me. I didn't know how to explain we weren't together anymore to a 5 year old, so I did my best and a day or two went by without it coming up again.
Then, in the middle of making the image above and out of the blue, Sidney said, "You should send that picture of me to ______." I said okay. A few minutes later, also without any more discussion on the matter, Sidney also told me I should send a picture of a flower to ______, I said okay and took a picture of the very next flower I saw.
When I got back to NYC, I did as Sidney requested.
Today, May 7th, is Sidney's birthday… Happy Birthday Sidney.
May 6th, 2009
i like to tell stories | four
May 6th, 2009
i like to tell stories | portfolio
As the above video proves, this particular new portfolio only requires 2 min of your time. Two minutes to look at pictures seems a pretty reasonable request. So go ahead, call it in, it's fun to touch… do it soon and you'll even get a copy of i like to tell stories
four
, on the house.
May 6th, 2009
i like to tell stories | volume one
I enjoy creating touchable stories in a quarterly format and may continue to do so as there are many positive reasons to keep it going. However, it all just makes more sense as a book… So I made the first four into one.
touch image above to play 55 second video
Books are always a good idea. If you want one, please contact me and we can make that happen.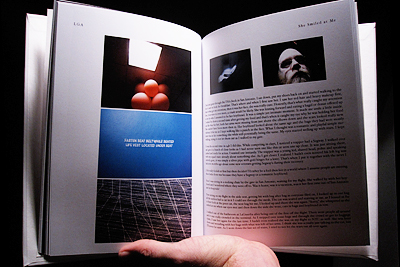 May 5th, 2009
Panzano Place
One minute video at my parents new home. | April 27, 2009
May 4th, 2009
Over Applebee's®
May 1st, 2009
Sidney | TX